A nice-looking kitchen with good-looking and top-quality fixtures and appliances is a dream for almost all homeowners. Not only does a state-of-the-art kitchen improves the standards of living, but it also enhances the aesthetics, reputation, and resale value of a house. This is why you should take extra care when renovating your kitchen by following the proper kitchen renovation steps. 
The first step to renovating your kitchen is making a detailed plan about the layout, the work, and your budget. Then, you need to decide whether you will do the work yourself, and if not, hire a general contractor. Next, you have to demolish either the entire kitchen or the parts you need to remodel. Then, you need to start building the kitchen back up starting with the wooden framework.
Let's take a detailed look at all the steps of kitchen remodeling. 
How to renovate a kitchen: a step by step guide
Kitchen renovation is one of the most time-consuming and expensive parts of home renovation. This is because apart from being the place with the most traffic, the kitchen also has a lot of different things that need to be worked on, such as plumbing, carpentry, electricity, flooring, etc. This is why you have to be extra careful when going through the kitchen renovation process.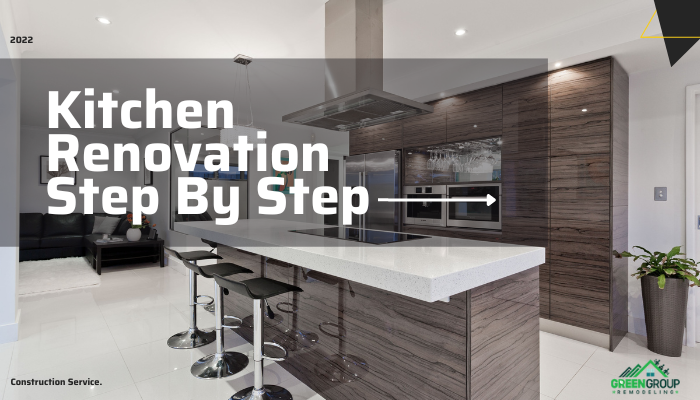 To make things easier, we have prepared a step-by-step kitchen renovation guide for you to follow. This will make your kitchen remodeling work go smoothly and make sure you get the kitchen you had planned from the get-go.
1. Planning the entire renovation process
Among all the steps for renovating a kitchen, planning comes first and foremost. Before you go through anything regarding remodeling your kitchen, you need to make a detailed plan for it. You need to decide how the kitchen will look, what you want from it, how big you want it to be, what will your budget be, etc. 
Every aspect of kitchen renovation planning is very important because all of it will have a big impact on the entire renovation process. Based on the looks of your kitchen you have decided, you need to buy the materials necessary for it. This will affect your budget for remodeling your kitchen as well as the budget for the entire house renovation.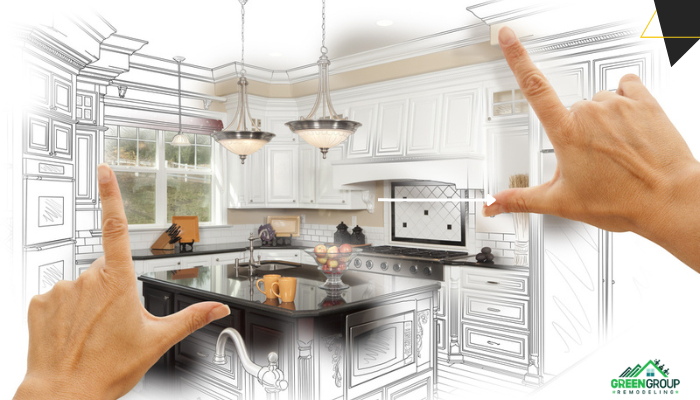 Also, you need to come to terms with reality and plan accordingly. All of us want a kitchen that we only see in the movies, with granite countertops, top-of-the-line fixtures and appliances, and marble floorings. But it is not economically and practically feasible for most of us. 
If you want to stay in the house for a long time and have a sizeable budget, then you can go for extravagant kitchen renovations. But if you are going to sell your home within the next 3-4 years, then it is best not to splash too much cash on your kitchen. Because not only will you not be there to reap its rewards, but your taste and that of the next owner of the kitchen may not match. 
You also need to assess your budget before starting kitchen renovation. Kitchen renovation can take up to 15% of the budget of the entire house renovation. So, you need to take the budget into account and buy materials, make plans and consider the size of the kitchen according to that. 
You also have to prepare yourself for the renovation, since you will not be able to use your kitchen for a long time. You have to make alternative plans for your food, such as making a temporary kitchen in another room. You also need to take other alternatives into account such as buying food from restaurants or going over to a friend or family member's house. 
Here are all the details on how long it takes to renovate a kitchen
2. Hiring a contractor
Once you decide on a plan for the kitchen and have the necessary budget, you need to decide how you will go about the renovation process. There are three ways you can renovate a kitchen. You can complete the entire work yourself, you can hire a general contractor who will supervise other subcontractors, or you can do some part of the work yourself and leave the rest to subcontractors.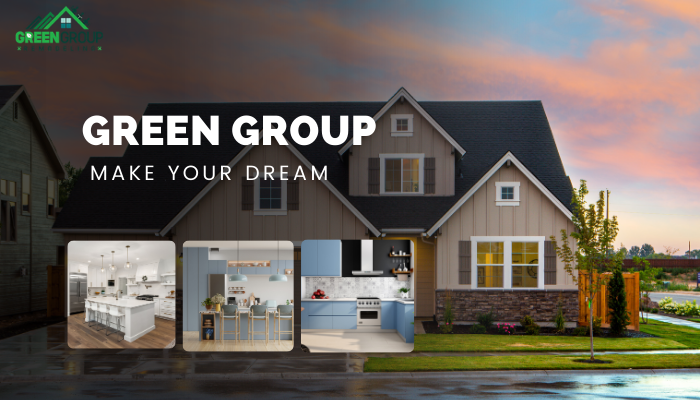 We, at Green Group Remodeling, have a team of plumbers, tilers, masons, carpenters, and electricians who work tirelessly to make your dream kitchen come true. If you want an entire kitchen overhaul in Concord, CA, we are your best bet. If you want a partial renovation, then you can follow the other two methods. 
3. Demolishing the kitchen
After getting the planning part done, you now have to start the actual work. Depending on the scope of the work, you either have to tear the entire kitchen or some part of it down. Demolishing is an extensive process and requires a lot of care and precaution. If you are doing the demolition work yourself, always make sure to wear protective gear such as gloves and goggles. 
Also, keep in mind that a lot of older houses have lead and asbestos in their walls and pipes, which are extremely harmful to the human body. If you see any of these two substances, handle them with utmost care. You should also turn off the water line so that you don't flood your kitchen when demolishing it. Also, take the necessary steps to take the debris away once the procedure is done. 
5. Building the structure of the kitchen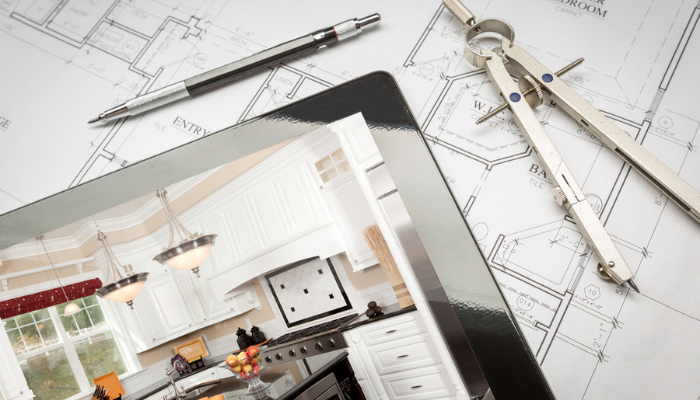 The next step in our kitchen renovation step-by-step guide is building the structure of your kitchen. The structure will depend upon the planned size and layout of your kitchen. Sometimes you don't plan on changing the overall structure of the kitchen too much, while sometimes the opposite is true. You or your contractors have to make sure the structure is built according to that plan.
Learn The Importance Of Kitchen Remodeling.
6. Plumbing, electrical, and HVAC rough-ins
Once you have built the base structure of your kitchen, it is time for the plumbing, electric, and HVAC rough-ins. It is best that you don't do this part yourself, and hire specialists for this (unless you are one yourself). There is a lot of complex plumbing and wiring needed in the kitchen, which when done wrong, can be catastrophic for everyone involved. 
The HVAC rough-ins are not mandatory like the previous two. But it will be better if you upgrade your HVAC ducts at the same time, to reduce the workload in the future. A kitchen needs properly functioning HVAC systems, which will make the kitchen livable by filtering out and cooling the warm air produced in the kitchen. 
7. Putting up walls and ceiling
Once the rough-ins are done, you can now put up the walls and the ceiling of your kitchen. This has to be done after the rough-ins so that the walls are not damaged by the rough-in work. Since the plumbing, electrical, and HVAC rough-ins also go through the ceiling, the same rules apply to that as well. 
8. Laying the flooring
This is one of the final stages of kitchen remodeling. After you have put up the ceiling and the walls, you can now lay the flooring of the kitchen. This is done towards the end of the procedure so that the other works don't mess up the flooring. 
There are a lot of types of flooring you can choose from, but no matter which flooring you choose, it has to be water-resistant and suitable for high-traffic areas. Materials such as vinyl, ceramic tile, and engineered wood are very suitable for kitchens, while natural hardwoods are not, because of their vulnerability to water damage. 
9. Installing countertops and cabinets
After you are done laying the flooring, you can now start installing your cabinets and countertops. While you can install a lot of cabinets yourself, installing countertops should be left to professionals. Especially, countertops made of granite and marble are so heavy that nobody other than professionals can handle them. 
10. Installing fixtures and appliances
The final chapter of our guide to kitchen remodeling is installing various appliances and fixtures into your kitchen. These include faucets, stoves, sinks, ovens, and refrigerators. You also need to install proper lighting in your kitchen. All of these can either be done by you or you can hire a subcontractor to do it.
Final Words
Kitchen renovation steps will depend a lot on the plan, budget, and scope of the renovation work. But no matter which steps you follow, you always have to keep an eye out for the safety of everyone involved in the procedure. 
FAQ
1. Where to start when remodeling a kitchen?
Kitchen remodeling has a lot of steps, so what to do first when remodeling a kitchen? The very first step of remodeling a kitchen is planning everything out to the last detail. This will help make your work a lot smoother and easier.
2. What are the 4 basic kitchen plans?
There are 4 basic kitchen layouts most homeowners follow when building or renovating their kitchen. These are:
L

U

Gallery

Peninsula or G
3. What is the most important item in the kitchen?
The most important item in the kitchen depends on from person to person. But to most people, the most important part of their kitchen is the refrigerator.