Apart from kitchens, bathrooms in your house are the places with the most traffic. But unlike kitchens, your bathrooms are a place for you to relax and spend some 'you time'. This is why you have to ensure you do everything in your power to model your bathroom in such a way that gives you peace and tranquility. One of the best ways to do so is to pick the best bathroom paint colors in 2023. 
There are a lot of colors trending in 2023 that you can choose from. You can pick various shades of blue and green to give your bathroom a more welcoming and timeless feel, while you can pick softer shades of pink to make it look calmer. You can also pick black and white as your bathroom paint color of choice. 
Let's take a deeper look at what colors of paint you can choose for your bathroom. 
How to choose the right paint color for a bathroom
The secret to making any room in your house look good is to choose the right color for it. Your kitchen should have a different color scheme than your bedroom, while the living room must be of a different color from your bathroom. The reason behind this is every color plays a different role in expressing different things in different rooms.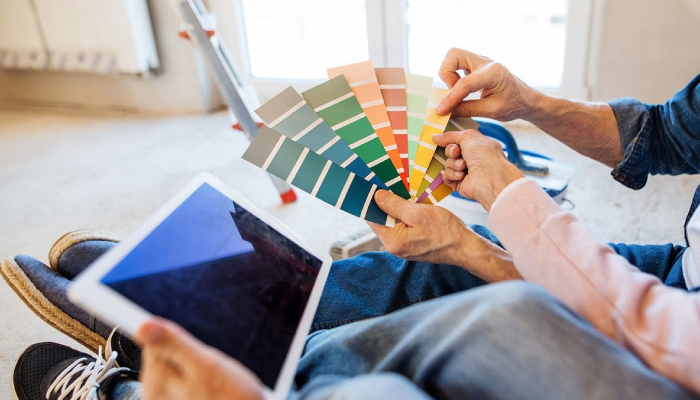 So, how should you choose colors for your bathroom? While choosing colors for your bathroom, you have to keep a few things in mind. When you choose paints, you can not focus on one part of the bathroom only. There is the floor of the bathroom, its walls, its cabinets and fixtures as well as the ceiling of the bathroom that you need to notice and pick a color accordingly. 
Next, you need to focus on what you want from your bathroom. Softer colors give the bathroom a more calming feeling than popping and loud colors. If you want your bathroom to have a calm feeling, more delicate colors will do the trick. But sometimes you might want a bit of class and elegance oozing from your bathroom for which, soft colors are not suitable. 
You also need to make sure the paint you have chosen for your bathroom's wall, ceiling, and floor doesn't look bad with the color of your faucets, bathtub, sink, toilet, or countertops. 
What are the most popular bathroom colors in 2023?
So, keeping everything said above in mind, we have compiled a list of the best 2023 bathroom colors for you to look at and choose from. 
1. Various shades of blue
As far as popular colors for a bathroom go, There's nothing you can do wrong with blue. This is a color that is as calming as it is timeless. While some colors are going out of fashion as bathroom paint colors, blue will always be a good color to choose from and has been this way for a long time.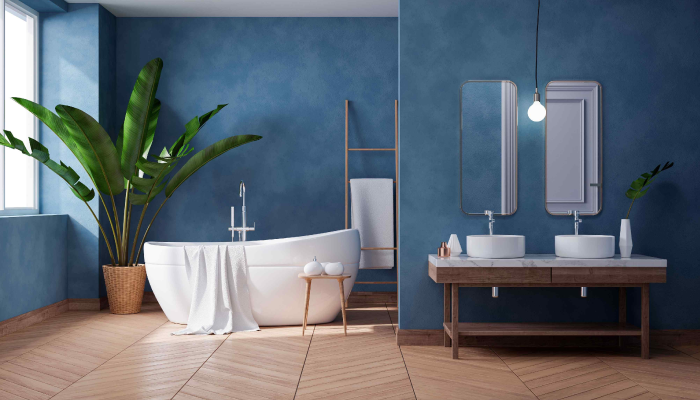 Another significant advantage of the color blue is there are a lot of shades you can choose from for your bathroom. You can choose the lighter and softer sky blue, or you can choose a bit moodier royal or navy blue. No matter what shade you choose, the fact that blue is a color that reflects the homeowner's keeping in touch with nature makes the bathroom more welcoming than ever before. 
2. Shades of green
Whenever we face the question, "What are good bathroom colors?", green is always near the top of our lists. Much like blue, green says a lot about the taste of the owner and how much the owner has been in touch with nature. One of the most calming and welcoming colors in the world, choosing the color green for your bathroom will allow you to relax inside as much as you want.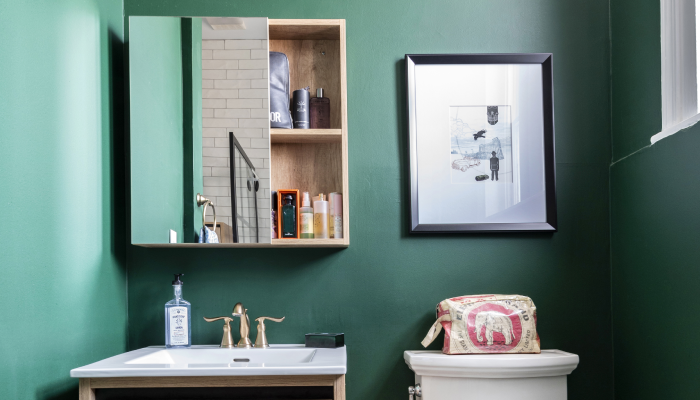 Although softer shades of green are more prominent in bathrooms worldwide, bolder shades are not unheard of either. With the darker shades, you can mix them with some other colors such as blue can be a great option. 
3. Sofer shades of pink
Pink is a color that has always been associated with softness, and it applies to bathroom paints as well. Softer shades of pink such as peach or mauve gives the bathroom a soft, elegant look that can hardly be achieved by painting the bathroom with any other color.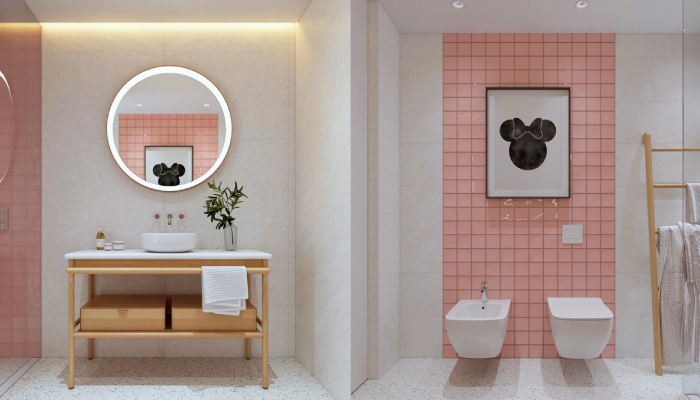 Remember when we told you that you also have to keep the contrast of the paint color and that of the fixtures in mind? One of the best modern bathroom paint colors for this purpose has to be pink since it goes very well with a lot of common colors of metal fixtures, such as copper and rose gold. 
4. Black and white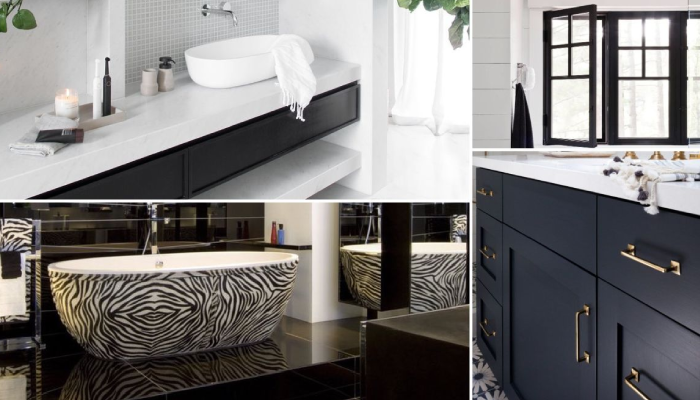 Both black and white have been synonymous with style, elegance, and class for a long, long time. Bathroom paint colors are no exception to this. Painting your bathroom floor, walls, and ceiling black and white will be a testament to your class and style. It will also allow you to put other colors such as grey or even red in your bathroom which will complement black and white. 
Know The Surprising Truth about Bathroom Remodeling Costs.
5. Darker colors
Other than the colors we have mentioned above, which more or less give your bathroom a softer and calmer feel, other colors give the bathrooms a more stylish and formal feel. You can use various darker colors such as dark grey, dark blue, dark brown, etc on your bathroom's walls, ceiling, floor, or even the fixtures and countertops.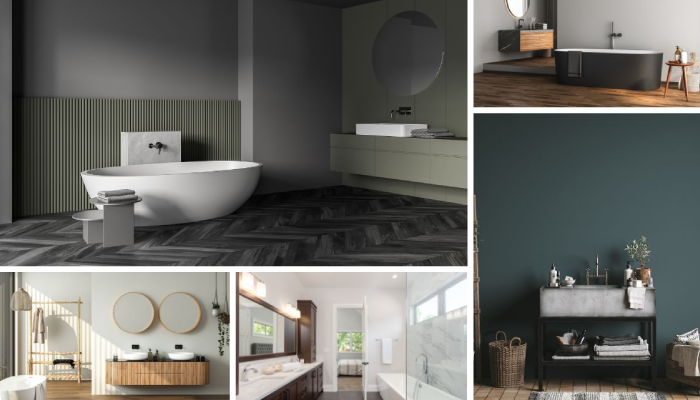 Black countertops will especially play a big role in enhancing the aesthetics as well as the reputation of your house along with your bathroom. All you need to ensure while choosing darker colors for your bathroom is the place gets a lot of natural light. Otherwise, it will be tough for people to see what is going on inside. 
Final Words
Choosing bathroom paint colors in 2023 can seem a bit tough, since the trend of what the best color is ever-changing. Even then, there are a few colors that will always be among the best colors for your bathroom, no matter what the era and trend. All you need to choose the color which you like the most for your bathroom and which complements the fixtures in it. 
Learn Which is cheaper Bathtub or Shower?
FAQ
1. What are bathroom trends for 2023?
Trends, especially those regarding bathrooms keep changing with every passing year. The trends for bathrooms in 2023 are larger stone tiles, increased usage of marble, and warmer tones. 
2. What are the new colors for the bathrooms?
As of 2023, the following colors have emerged as new additions to a lot of people's bathrooms:
Warm earth tones

Softer shades of blue

Soothing shades of green

Dark black and charcoal
3. Which color is best for the toilet and bathroom?
For bathrooms only, you can choose from any of the colors we have mentioned above. But when you include toilets in the equation, you need to be a bit careful in choosing the color. You can choose white, navy blue, black, or hunter green for your toilet.