What is ADU?  An ADU is an accessory
Thera is a benefit of ADU unit, it is also called dwelling unit or mother-in-law units, guest houses, or backyard cottages.  These units are basically tiny homes and have a bathroom, kitchen, and living space all under one roof.  They are detached from the main building on the property and can be used for a variety of things such as a place for guests to stay, Airbnb, or a single monthly rental.
Side Income
An ADU is perfect for a little side income. You can rent it weekly, daily, or monthly.  It is entirely up to you.  People are renting Airbnbs all the time.  This would bring you the most money out of it, however, it is also the most work.  You need to weigh your options and figure out what works best for your lifestyle.
If you rent as an Airbnb you will be responsible for cleaning it as well as furnishing it.  Renting your ADU as a monthly rental would be far easier and wouldn't require you to furnish or do anything to it, except collect the rent. People are looking for a place to live all the time.  Be sure that you go over your rental agreement with an attorney to be certain you have everything written up correctly, especially if this is your first time.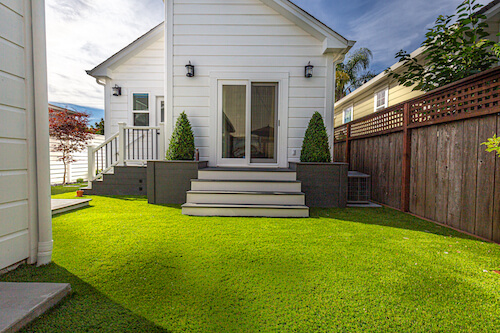 Care for family members without living with them.
As your parents age, you feel that you need them closer in order to help care for them. Nursing homes and assisted living homes are very costly.  However, if your aging parents can pretty much live on their own with a little help from you, why not move them in?  This is a great way to save money and it gives them the freedom that every one of our parents loves.  It is important that you do what is best for your family, of course. But an ADU home is a great solution for those looking to care for their aging parents.
Increase Property Value
Having an ADU home on your property will increase your property value.  Whether you call it a guest home or an ADU, it simply is another usable dwelling that many seek.  It is nice to have guests and enjoy their company but have separate living areas.  This allows everyone to have time in the mornings to get ready and time at night to wind down without feeling awkward in some way.
It is perfect for visiting parents that you love so much but have an opinion on everything.  They can still see the grandkids but not completely invade your life, sounds perfect, right?  Well, others will think so too, and will favor your property over others when looking to buy.
Sustainable
The maintenance of these ADU homes is pretty low.  They are small buildings so they don't take up much heat or electricity.  They are usually very affordable and built very economical.  The utilities can be tied to your home or you can have them set up separately, which would be desirable if you are going to rent it out monthly for example.  However, you can always have water, gas, and electricity included in the rent, should you purchase a home with an ADU on it already.
Turn your Garage Conversion idea into reality with help from our best remodeling team. Call Green Group Remodeling for a  Free In-Home Consultation. Call 925-510-4640